Three aspirants collapse structures to work with kendoo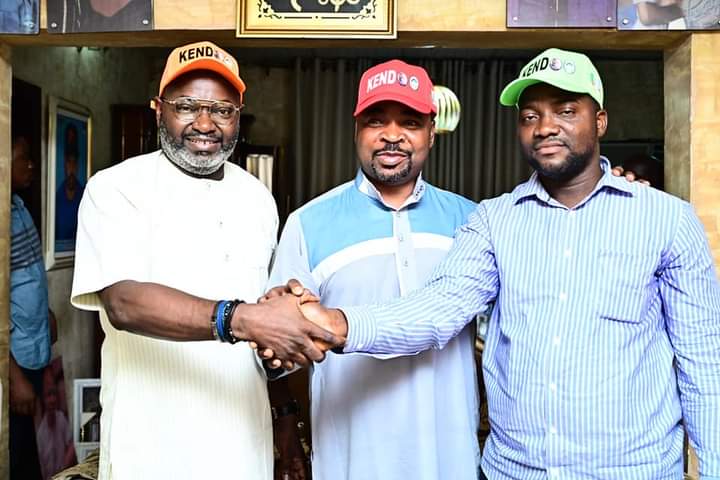 Three aspirants collapse structures to work with kendoo
Three aspirants in the race for the chairmanship of Oshodi Isolo Local Government on Wednesday threw in the towel and collapsed their campaign structures into team Anularigba of Otunba Kehinde Adeola Almaroof Oloyede.
The trio who has agreed to work with the team Anularigba of Otunba Oloyede is, Hon. Biodun Ogundimi, Hon Murtala Williams, and Hon Kayode salako promised to ensure the emergence of Otunba Kehinde Oloyede on Saturday as the candidate of the ruling party in the local government. 
They all eulogized the symbol of team Anularigba for embarking on issue-based campaign rather than personality attacks as being displayed by some of the aspirants, stressing that the progress and development of Oshodi are paramount to them, and that they see Otunba Oloyede being passionate about it and that they are ready to support him in realizing a better and greater Oshodi.  
In his response, Otunba Oloyede popularly called kendoo thanked them for the confidence reposed in him, and promised not to let them down when he mounts the saddle. 
He stated that a better Oshodi will be realized under his watch as chairman and that those who have agreed to work with him to ensure success on Saturday won't be disappointed.  
According to him" let me appreciate you for this honor done me and the entire Anularigba family for agreeing to work with us to ensure victory on Saturday, your efforts will not be in vain. Let me assure you that I will not disappoint the confidence you have reposed in me. All your visions and programs will be inculcated into our manifesto. From today, you are our partners in progress. ".
In his brief remark, the chairman of the National Union of Road Transport Workers, Alhaji Musiliu Ayinde Akinsanya ( mc oluomo) who brokered the meeting thanked all of them for their resolve and readiness to work together as a team to win the primary on Saturday. 
He saluted the courage of the trio of Hons Ogundimu, Murtala, and Salako.