We did not mean to harm her,just disciplined, ..said Anglican clergyman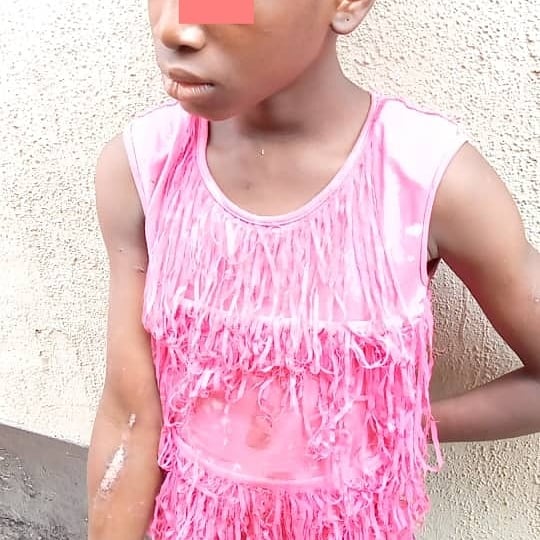 By Ifeoma Ikem
Detective of Lagos State police command have arrested Rev/Mrs Adeleke Adebanjo of Anglican Church,Oko Oba area of Lagos State metropolis for inflicting series of injuries on a nine years minor who they employ as a domestic staff.
The bubble boast out on the 6th of January 2020 when a neighbor call our social worker from mandate reporter of Stop The Abuse Foundation to inform them of what a minor have been passing through since two years she living with the elderly couple .
According to the stop the Abuse foundation source who spoke on the condition of anonymity told them that the inhumane treatment the minor received on daily basis is not what they we bear or pretend again,that a dog bite the victim on her breast the so called priest and his wife has not taking her to the hospital for anti rabies and anti tetanus injection.
Based on the information gathered by social worker with the Toyin Ndidi Taiwo-Ojo,Stop The Abuse Foundation, immediately report the matter to the police who arrests the perpetrators for child abuse
Speaking further, Stop The Abuse Foundation,told our correspondent that the victim have being living in hell since two years she lives with them as a domestic staff series of injuries is all over her body for no just cause. "there were scars all over her body from several previous beatings,the recent scars on her hand was occasioned by the "grandma" allegedly used hot electric iron to "press"her hand.
The minor also told the Stop The Abuse Foundation convener that it was one of her my mother friend that deserve her parents that the perpetrator is looking for someone to stay with them since they children are all grown up, I am the last child of my parents. I was brought here since two years now the woman that deserves my parents have never show up again, they do not enrol me to school as they promised, I can not come out or go to church with them only house chores any little mistake I received beating with injury.
"My daily chores includes changing the diaper and cleaning of the "great grandma of 90 years" who also resides with us. "I feeds and takes care of the kennel of the two Asaltian dogs in the house.
The source added that it is heartbreaking and disheartening a result from Mirabel medical centre report by the hospital was discovered that the poor girl was also abused sexual both vaginally and anally.
The convener of Stop The Abuse Foundation Barr .Toyin Ndidi Taiwo- Oko Commend the quick response from the State commissioner Of police, Hakeem Odumosu,
Gender unit, Ikeja. Mrs Sanusi Shade, Ministry of Youth and Social development, Mrs Jite of BINs and the Stop the Abuse Foundation teams.
During interrogation the 67 years old couples claimed that they were disciplining the minor through confessional statements made at gender unit Ikeja,state command.